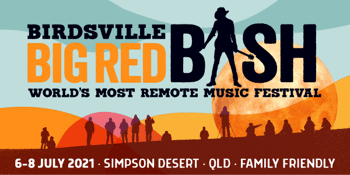 Birdsville Big Red Bash - Pay Over Time
starring Paul Kelly
Big Red Dune, (Birdsville) (Birdsville, QLD)
Tue 6 - Thu 8 July 2021 9:00 am
It is with heavy hearts that we are announcing today that the 2020 Big Red Bash has been cancelled.
All tickets are valid for the 2021 event on 6-8 July 2021
For further information please visit the event website here: https://www.bigredbash.com.au/bigredbash/2020-cancelled-announcement
The payments for each instalment will be deducted on the following days:
1st installment - Monday, 2nd of March 2020
2nd installment - Wednesday 1st of April 2020
3rd installment - Friday 1st of May 2020
Final installment - Monday 1st of June 2020
Your ticket includes 4 nights camping at the Big Red Bash festival site from the 7th July.
Please refer to terms and conditions for full details.

*If you add Refund Protection to your order, an additional amount will be added to each instalment.
If you would prefer to purchase Standard Tickets please click here